Edensor offers a warm and friendly environment in our comfortable care home in Clacton-on-Sea, Essex, offering dementia, nursing and residential care for the elderly. Our fully trained professional staff encourage all our residents to retain their own independence as much as possible within their capabilities and they are always on hand to support them if and when needed.
We believe there is nothing more important than our residents. We aim to provide the highest possible quality of care for residents, where everyone feels valued, secure and happy.
As a charitable organisation, our priority is to ensure residents feel safe, secure and cared for, in a place where their dignity and privacy is respected at all times. We strive to ensure our residents can feel truly at home, leading a fulfilling life.
We cater for a range of needs and our residents are encouraged to take part in tailor-made activities to suit every ability and interest.
Edensor is a CQC registered provider for persons requiring residential nursing or personal care. Our home is managed in sections small enough for our staff to provide a really caring, personal service. Every member of our team knows every one of our residents and provides the best care you can imagine.
We always welcome visitors at any time so please let us know if you would like to come and look around and find out how we can care for your loved one.
You can download our full brochure here.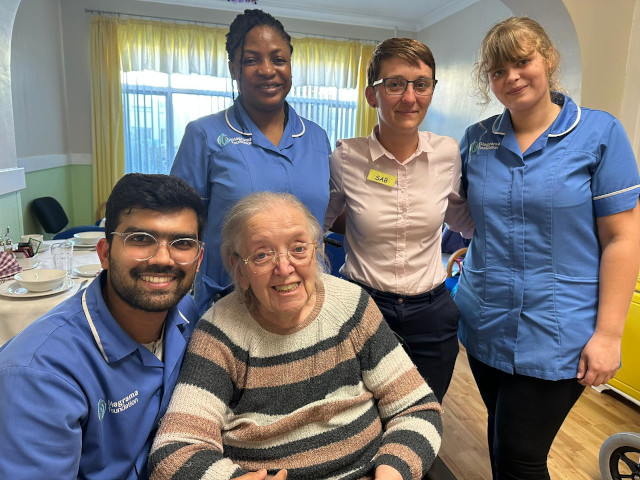 A Warm welcome from Registered Manager, Sabina Mach in a quick Q&A:
Sabina travelled from Poland to the UK 15 years ago with the intention of undertaking a summer job in Essex, but ended up enjoying it so much that she hasn't ever left! Sabina's story is of hard work and dedication, and being promoted up the ranks from Domestic to Care Home Manager is recognition of her longstanding commitment to the residents and families at Edensor and her supportive and motivational nature to fellow staff.
How did your upbringing shape the person you are today?
My upbringing in Poland taught me the huge importance of family, treating others with respect and dignity, as well as compassion - values which I have held dear throughout my life and apply to my work each and every day at Edensor.
When did you join Edensor?
I joined Edensor in February 2010 (prior to Diagrama running the centre) as a Domestic. My sister already worked at Edensor at the time which helped me settle in.
I worked really hard in my role by listening and learning on the job and became a Care Assistant in 2011. This allowed me to improve my communication and language skills further and I got to work with residents and their families. I also completed Level 3 NVQ in health and social care in 2012. Then, I became a Senior Carer at a relatively young age of 22. At this point I was managing staff and planning tasks for residents, which I absolutely loved doing. Diagrama Foundation took over the management of Edensor in 2016 and I took up a Coordinator position in 2018.
At the beginning of 2023 I was promoted to my current role of Care Home Manager.
What motivates you?
I am always motivated by how to make things better at Edensor, and make it a great place for residents to enjoy life. It can be a challenging job, and I am driven by my own positive attitude towards my work after a challenging few years during the pandemic. I've always known that I was part of one big team that work so well together, and that makes me feel extremely proud. It's all about making the residents at feel happy and comfortable – which makes my day. I love to build personal connections with residents and their families. I can often be found at Edensor even on my days off, providing extra support to the team and making sure the residents are happy.
What do you think are your strongest skills?
A real planner, I am always thinking ahead to what can be done and what more can be achieved at Edensor to benefit all the residents and staff.
What are your goals for the future of Edensor?
I am a huge advocate and fully on board with the Montessori approach which works to empower residents and enhances their quality of life. People in our care do as much for themselves as possible through a range of meaningful activities to remain independent for as long as possible and maximise their enjoyment of life based around things they enjoy. That is certainly how I see the future of the care centre and its development and we have lots of exciting plans over the coming months and years. We'd also love to build on our strong community links and continue to make Edensor somewhere the schools and groups as well as friends and family are always welcome.
Come and meet our team and our residents!
We'd love you to pay us a visit to see the fantastic care we can provide for your loved ones at Edensor. To book a visit to Edensor or to find out more about the services we can offer - call 01255 423317.
Behind the scenes at Edensor:
2022 was a fantastic year for residents and staff at Edensor Care Centre. After scooping four gongs and a host of commendations in the Essex Care Sector Awards in July, staff member Ewa Ruskowiak bagged the Ancillary Worker Award for excellent person-centred service to clients at the Great British Care Awards earlier this month.
Deputy Manager Lindsey Milliken talk us through the secrets of Edensor's success.
"The environment is so important for residents – this is their home and it has to be a calm, safe space. People with dementia need quiet sometimes. The Montessori philosophy is so important and the work to embed that is ongoing. The Montessori approach focuses on re-discovering and supporting the person behind the dementia. Activities with meaning and purpose are put back into people's lives, based exclusively on their needs and abilities.
"The care we deliver is really good here. We're a charity so every penny goes back into making life better for the residents."
The spectre of the Covid lockdown still hovers over Edensor and Lindsey is quick to pay tribute to the staff who worked selflessly through that period.
People were very frightened at the time. We had a lot of unsung heroes here among the staff who put in extra shifts and worked overtime.
"That's why awards are so important because they show staff that their work is appreciated. When Ewa picked up her award she said that she felt before that no-one had believed in her. She 100 per cent deserves it, she often works outside her hours and carers and domestics have such key roles here.
"In terms of improving life for our residents, I always talk about the Wish Tree initiative, whereby residents hang their handwritten wishes on a tree and we do our level best to make them come true.
"That's how Dave the cat came to Edensor and he has made such a difference to the atmosphere here. We want to make the home more like their home environment. It all takes time – painting, decorating, getting outside, even buttering bread. The residents are valued, we're saying 'We really need your help' to them – these are Montessori principles and that's what makes us different to other care homes. We're getting there, it's a five year process and it's all about improving life for staff and residents, it makes everyone feel better."
End of life care is a topic the staff of Edensor deal with regularly and with the dignity of their residents at the forefront of every decision.
Advance care planning is the key to end of life care here at Edensor. Finding out what the wishes of the family are – staff getting that right is essential because if they get it wrong the family will never forgive us.
"We make sure everything's in place when someone is approaching end of life, medication and everything else that needs to be on hand. If we know what the person's wishes are and we are giving the best possible quality of life, then we can't do any more than that.
"We had a man here called Simon Keyes who had terminal cancer aged 34. He was a similar age to two of my sons. One day he threw his dinner out of the window because he didn't want it – his cancer didn't stop him. I told him I'd be forcing him to pick it up if he'd have been well enough. He was no angel but look at what cards life had dealt him. He was so young and he couldn't do his bucket list because he wasn't well enough.
"Simon was unique. He'd come to my house and he just wanted to feel like part of a family. Obviously it's sad when people die, the residents are our extended family and you get very attached to them. People die and we do our best to get over it but you never really do.
"It's two years since Simon died and his sister is just about to have a baby. He would have loved that. His family keep in touch because they remember the care he received here and the people who delivered that care.
"We went to the seafront the day before he died and he breathed in the sea air. He told me he would love to go on the beach to feel the sand and be taken to the water's edge to put his feet in the sea. But he couldn't do that by that stage and that was heart-breaking.
"That's the moment we started thinking about beach wheelchairs. We bought our beach wheelchairs last year thanks to donations from charity, Colchester Catalyst and Pickering Electronics and they have made such a huge difference to the lives of our residents who use wheelchairs.
"That's Simon's legacy. We talk about him every day but the wheelchairs are a physical reminder of him.
"We are one big family at Edensor. We are so lucky to have such commitment and loyalty from the staff. We've had staff leave and come back because they miss working here and they realise how good we are at what we do.
"We quite often take on residents who can't go anywhere else. We took in a homeless man and managed to reunite him with his family, which would never have happened without us – things like that make the job so worthwhile.
"Another thing that sets us apart is that we try to work with other care homes on things like picnics, days out and other activities. It's not a competition, socialising with others is so important to our residents.
"We couldn't do it without the team, who are just amazing.
For all residential enquiries or to book a tour of the home please call our Registered Manager, Sabina Mach on 01255 423317 or email edensor@diagrama.org and we will be in touch to discuss your needs.